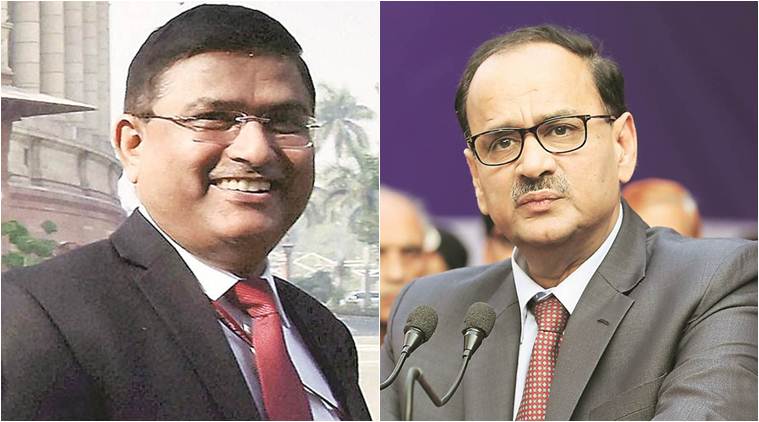 As Nagehwar Rao is posted as the new interim Director, Can we trust CBI now? Surely the allegation levied against top two functionaries are extremely serious and damaging and it needs a serious probe by independent authority to investigate the accusations. It is well know with in the important circuit in Delhi that CBI has compromised on several serious corruption cases involving key politicians and top industrialists involved in mega scams. Either one of the officer or both of them are lying to fix other but the truth emerging out from the charges levied against each other have completely demolished the reputation of the agency. Government must get it investigated the charges hurdled by them on each other by independent SIT comprising off Retd Supreme Court CJI and CVC  with a mandate to submit the report within one month's time. Both or one of them guilty of corruption must be suspended with immediate effect till the report is submitted, to be booked under most serious IPC sections, and SIT must investigate the source of income and assets base of respective officer.
As the battle in the top ranks of the Central Bureau of Investigation becomes more vicious, with the lodging of an FIR against Special Director Rakesh Asthana last week, the officer, it appears, has listed more than a dozen charges against Director Alok Verma and other top agency officials, double the number of complaints against him. Exactly a month ago, the CBI had issued a statement informing that its Special Director's role was being investigated in "at least" half a dozen cases. Days prior to that, it transpires, Asthana had shot off a 'top secret' complaint to the Cabinet Secretary, listing more than a dozen charges against the Director, including relating to the investigation against meat exporter Moin Qureshi, and regarding two businessmen seeking St Kitts citizenship, and a land acquisition case in Haryana.
As the charges and counter-charges fly, hitherto unknown details of cases being investigated by the CBI as well as the Enforcement Directorate (ED) are tumbling out. It was up to the Central Vigilance Commission, which supervises the CBI's functioning, to act on the spate of complaints from warring camps.
Besides the already known case of searches allegedly being called off in a case involving RJD supremo Lalu Prasad, Asthana listed the following allegations against the CBI chief and other senior officials: An accused in the ongoing investigation against Moin Qureshi, Hyderabad-based businessman Sana Sathish Babu, had claimed that he paid a bribe of Rs 2 crore to CBI Director Verma to avoid action by the CBI, Asthana said. He added that he was instructed by Verma on February 20 on the telephone not to examine Sana and that the latter came for questioning only once and did not turn up thereafter. Incidentally, this is the same case in which an FIR has been lodged against Asthana, naming him as the one who accepted a bribe. The FIR, registered on October 15, alleges that on October 4, Sana gave a statement on oath that Asthana, among others, shared bribes of Rs 3 crore to stave off the CBI.
The Director, CBI, was informed by intelligence agencies that two businessmen facing CBI cases were trying to obtain the citizenship of St Kitts, but the agency took no action to either revoke their passports or arrange look out circulars in their names, Asthana wrote. While one of the businessmen is named in a coal block allocation case, the other is being investigated for money laundering as part of the 2G spectrum allocation case.
Now the country is aware of the fact that why none of the mega scam accused are convicted and why the corrupt politicians and businessmen are king of good times. When the top investigating agency is compromised to such an extent, government of the day will be left with red face and it cut short a very sorry figure in front of a common man. Surely, Prime Minister can't ignore the recent developments happening under his noose and it is high time that he must act tough rather than brushing the matter under the carpet. All the incompetent Gujrat cadre officers in top positions have taken extreme liberty to damage the impeccable position of Prime Minister in the past 4 years, it must be addressed and corrected with immediate effect to deliver good governance, India is much more than Gujrat and the national talent pool is much more competent than these few rustic officers posted in key positions by Prime Minister.
Now the situation will be complicated if SC allows Alok Verma to be posted again as the CBI Director. I think Modi government love for Gujrati officers is taken them to a certain avoidable logjam. Secondly, a bureaucrats can't be an activists: punish both of them severely for misconduct & set up SIT to investigate corruption charges against both of them ..
Prashant Tewari Editor-in-Chief